Events
Crawfish Festival . Frontier Days . Heritage Days . Home for the Holidays . SpringFest Wine, Art & Food Festival
---
FREE ROGER CREAGER CONCERT
Saturday, October 18, 2003

SPRING, Texas - Saturday, October 18, 2003 Roger Creager, Charlie Robison, Cory Morrow, Deryl Dodd, Radney Foster . . . no, it's not a wish list, it's the line-up for the Old Town Spring Texas Music Festival!
The third Saturday in October finds Old Town Spring's Preservation Park transformed into a Texas music festival so big it's got two headliners on two stages! Roger Creager headlines the ZiegenBock Stage at 10:30 p.m., with Cory Morrow at 7:30 p.m., Radney Foster at 5:30 p.m., Honeybrowne at 3:30 p.m. and Drew Womack at 1:30 p.m. Charlie Robison headlines the Budweiser Stage at 9:00 p.m., with Deryl Dodd at 6:30 p.m., Phil Pritchett at 4:30 p.m. and Pauline Reese at 2:30 p.m.
Festival gates open at 12:00 Noon and close at 12:00 Midnight. Admission is FREE and open to all ages of music lovers! Parking is $5.00 per vehicle and proceeds benefit the Knights of Columbus and Old Town Spring Preservation League.
Die-hard, dedicated music fans will also enjoy a delightful array of festival food, soft drinks and adult beverages. The ZiegenBock Old Town Spring Texas Music Festival is produced by Mustang Entertainment, sponsored by 100.3 KILT and benefits Project St. Brendan, a non-profit group.
For more information, call the festival hotline, 832.237.8900, or check out our web-sites, www.ziegfest.com or www.ziegfest.net.
| | | | |
| --- | --- | --- | --- |
| ARTIST | ARTIST | ZIEGENBOCK STAGE | BUDWEISER STAGE |
| ROGER CREAGER | | 10:30 TO 12:00 | |
| | CHARLIE ROBISON | | 9:00 TO 10:30 |
| CORY MORROW | | 7:30 TO 9:00 | |
| | DERYL DODD | | 6:30 TO 7:30 |
| RADNEY FOSTER | | 5:30 TO 6:30 | |
| | PHIL PRITCHETT | | 4:30 TO 5:30 |
| HONEYBROWNE | | 3:30 TO 4:30 | |
| | PAULINE REESE | | 2:30 TO 3:30 |
| DREW WOMACK | | 1:30 TO 2:30 | |
| | TBD | | 12:00 TO 1:30 |
---
RIB-FEST & MUSIC 2003

October 24 - 26, 2003
| | |
| --- | --- |
| | Featuring music performed by: Jerry Jeff Walker, Joe Ely, and Delbert McClinton, to name a few. |
| | |
| --- | --- |
| Festival goers can visit our arts and crafts market, kid's activities, and Porky's Café Stage for unlimited showtime entertainment. | |

Visit their web site for more information at: www.ribfesttexas.com
---
November 9, 2003 - Until Christmas
Enter a Winter Wonderland

The 22nd annual "Home for the Holidays" begins November 9th with a Christmas parade at 9am. The Grand Marshals of the parade this year will be the Texan Cheerleaders. Open House begins in the shops after the parade, and the official lighting of the Town begins at 5pm. There will be entertainment every weekend until Christmas.
Shop in over 180 Decorated Shops
Merchandise from all over the world
"International Christmas" with over 24 countries represented
Beautifully decorated shops with twinkling lights and red bows
Entertainment throughout the town all weekends
Living Christmas Tree, Live Nativity, and special Broadway Production "Christmas Shines" every Sat. night at 6:30 from Nov. 16th thru Dec 21st.
Shops Open Late Each Saturday
"Home For The Holidays," a tradition in Old Town Spring, proudly presents "Christmas Around the World," the theme of this year's event. Twenty-four beautifully decorated Christmas trees will be all around town, each depicting a different country, with decorations made by area school children. Shops will be decorated with twinkling lights, garlands and beautiful red bows. Shoppers will be entertained by carolers, barbershop quartets, choirs, and a variety of performers. It is truly a magical family event.

The weekends of November 9th and 10th and November 16th and 17th will be "Open House" weekends, with the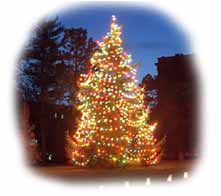 shopkeepers previewing their Christmas Merchandise and welcoming shoppers with treats and the kind of hospitality only a small town can offer. "Home for the Holidays" continues through Christmas with great shopping everyday and free entertainment on the weekends.

On November 16th at 6:30 p.m. the 1st Assembly of God Church of Spring will begin their Annual Presentation: A Living Christmas Tree and live Nativity and a very enjoyable Broadyway-like production entitled "Christmas Shines," a great event to bring the whole Family to. Get here early; the crowds are tremendous and it is hard to find a chair after 6 pm.

Old Town Spring offers the best in Shopping, Merchandise from all Around the World, a Stress-free environment where shoppers can stroll, relax and enjoy entertainment and hear the laughter ringing in the air. Faces are smiling, voices are singing, it is like stepping back in Time. And yes, we do have Santa for the children on Weekends in Thyme Square.

Our Charity for the event is "The Star of Hope Mission for the Homeless". We collect used or new coats, sell stars for the "Star of Hope" Christmas tree, which is actually a donation for the Mission, and we also collect Christmas Presents for the Teenagers of the Mission.

Our big event is sponsored by Spring Trails a new home development on Riley Fuzzel Road near Old Town Spring. Their Grand Opening will be in November.

For more information call 1-800-OLD TOWN.
---